10 top marketing trends for 2022
We would like to present 10 predictions that we foresee for 2022. Without a doubt, going through a year-long global pandemic in 2021 has left an imprint on marketing professionals and everyone else for that matter. Despite its impact on the marketing sector, we are optimistic and excited about what is to come.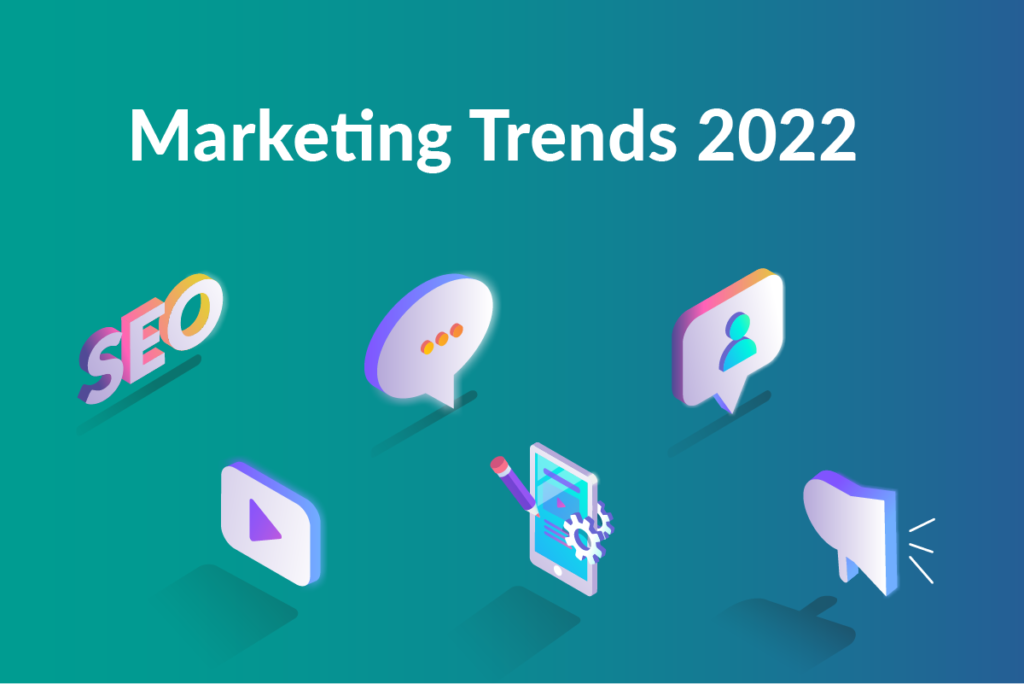 We have conducted a survey about which trends will increase in popularity and which new marketing trends we should keep an eye on for next year. As a result of the survey, participants have told us what marketing trends will shape 2022 for them.
Content quality vs. SEO
We have identified that in the upcoming year the quality of content will be more important than quantity. We asked participants if they plan to prepare and regularly publish quality content and more than 60% said they plan in advance and make sure they create fresh content. However, some participants claim that quantity is still important as their marketing relies on SEO and a large amount of optimised written content.
Video marketing
Video marketing is considered to be one of the most effective marketing tools companies can use. The result of the survey shows that most marketing professionals agree that video marketing will increase in popularity and many participants plan to use video marketing as a primary medium within their strategy. They pinpointed testimonials, promotional content and explainer videos.
SEO strategy
Building a strong brand image will always be important. Therefore, we found that focussing on organic reach to raise a company's brand is preferred to online advertising, mostly due to the increase in advertising costs. We asked if participants plan to work on an SEO strategy that provides long-term value in order to build a strong brand image. The survey revealed that on average 50% of participants think that SEO plays a significant role in their marketing and they regularly review their website; checking and building the SEO position of each pillar content. However, more than 30% of decision makers rely on lead generation and a direct approach. In conclusion, participants don't focus purely on SEO in their marketing.
UX and UI
This year, good UX, simple website design, transparency and minimalism reign supreme in marketing trends. It is recommended that web developers should focus on user experience by creating accessible, functional and intuitive websites. From initial design, through to specific solutions, ongoing maintenance and regular updates. All participants are planning to improve user experience in some way in the upcoming year. Just over 40% of marketing professionals have already worked on their current website and they want to ensure that UX is priortised. Almost 60% of participants plan to completely redesign their website. They have found that in the last few years their content has grown and their business has developed and yet their website doesn't reflect all of the changes. Therefore, they need a new website to ensure effortless navigation to allow visitors to take desired actions.
Interactive content
Marketing professionals understand that audiences need to have more choice and express their opinions more freely in the way that they interact with content. Therefore, new interactive mediums have become available; interactive video, surveys, questionnaires, marketing games etc. We asked participants if they have used interactive content in their marketing strategies and the survey reveals that 53% have already used it and it has been highly successful. Others admitted that they would like to experiment with interactive content but they would need some help to come up with creative ideas. The survey demonstrates that 15% of participants believe that interactive content isn't worth using in their strategy. They perceive interactive content as time consuming and not hitting their ROI targets.
Online vs. Offline events
Due to COVID restrictions, many events have been canceled or moved to the virtual space. Despite the easing of restrictions in some cases, many events are still happening online. Online events such as; webinars, seminars or product launches will continue in 2022 as many people still like to attend events from the comfort of their own homes. The survey suggests that the majority of participants had positive experiences with online events and they plan to produce a mixture of online and offline events for 2022. They noted that this gives attendees the choice to either invest more time and benefit from networking opportunities or focus solely on the intake of information and watch/record speeches from their own office or home. 15% of participants disagree with the positive effect of online events and they believe that at least 50% of the value of an event is face-to-face interaction, exchanging ideas, information and networking.
Storytelling
Revealing company processes and providing value through stories is key to engagement, whether that be through testimonials or scripted content. We asked participants about their plans to implement storytelling into their marketing strategy. The results show that most participants have been using storytelling in one form or another. They believe it is a fundamental approach for marketing. The survey demonstrates that just under 23% understand the power of storytelling, however they aren't sure where to start. Participants identified that not having talented writers in-house have forced them to look for external sources. Only 5% answered that they don't believe that storytelling is important. Overall, 95% confirmed that providing value through stories is key to engagement.
User-generated content (UGC)
The importance of content that is created by customers and users has significantly increased in the last few years. In 2022, marketing professionals will focus on using UGC and consider it to be one of the most authentic forms of digital word-of-mouth marketing. As a result, UGC has made brands more accessible and relatable. Potential customers are more likely to trust a company and be attracted to their offering if the content is not directly coming from this brand. The survey demonstrates that the overwhelming majority, 84% of participants find UGC interesting and worth implementing in their strategy. Half of them have tried using user- generated content and they have been amazed at how effective it has been for their business. These participants understand how to encourage their audience to create it. We have discovered that the other half is interested in UGC but they aren't sure how to generate it. Only 16% don't find UGC important to their business, saying they don't see the benefits of implementing this kind of content to their strategy.
Influencer marketing
Whether you are a B2C or a B2B-based company, influencers can have a significant impact on your marketing campaign. Choosing the right person who shares your vision is crucial if you are going to get the most out of influencer marketing. We asked participants if they have considered working with an influencer for their campaigns. Our survey indicates that just over 50% of participants claim that influencer marketing is on their agenda, although they highlight that their perception is that it is very expensive and therefore they have held back. Despite the disadvantages, participants haven't eliminated the possibility of trying influencer marketing. Although they would consider working with an agency who has experience in building relationships with influencers. The survey shows that almost 40% don't see any value in using influencers. In their view, they have individuals in-house who are influential in their sector and understand their business better.
What forms of marketing should be implemented into a properly carried out marketing strategy?
Participants were asked what forms of marketing they are planning to implement into their marketing strategy for the upcoming year. They stated that, 'video marketing along with animations', 'improving social media strategy' and 'developing written content' are most important.
Some participants also identified: 'PR, SEO, website redesign, user-guides and event attendance' for marketing strategies in 2022. Answers also included the importance of 'e-commerce and voice assistants such as Alexa'. Everyone agreed that a mix of different forms of marketing is the recipe for a perfect marketing strategy.
One participant concluded that they 'want to implement fresh and creative ideas in marketing strategies that align to their business objectives. It has to be meaningful to express the brand in a way the customer understands'.
2022 will no doubt bring fundamental changes to the way we approach marketing. The importance of some marketing trends have significantly increased and next year they will again come of top of the list. As we enter a new year, it is important that we are aware of all of these trends. Why not try to implement them yourselves and execute a well-balanced and creative marketing strategy.