5 rules of great User Experience
User experience (UX) focuses on the user's needs and experiences when using an interactive product. When building a website, it is really important to keep the user experience in mind as their impression about your website depends on it. The entire web design should be always user-centric. People judge how they like the website only superficially by looking at the interface.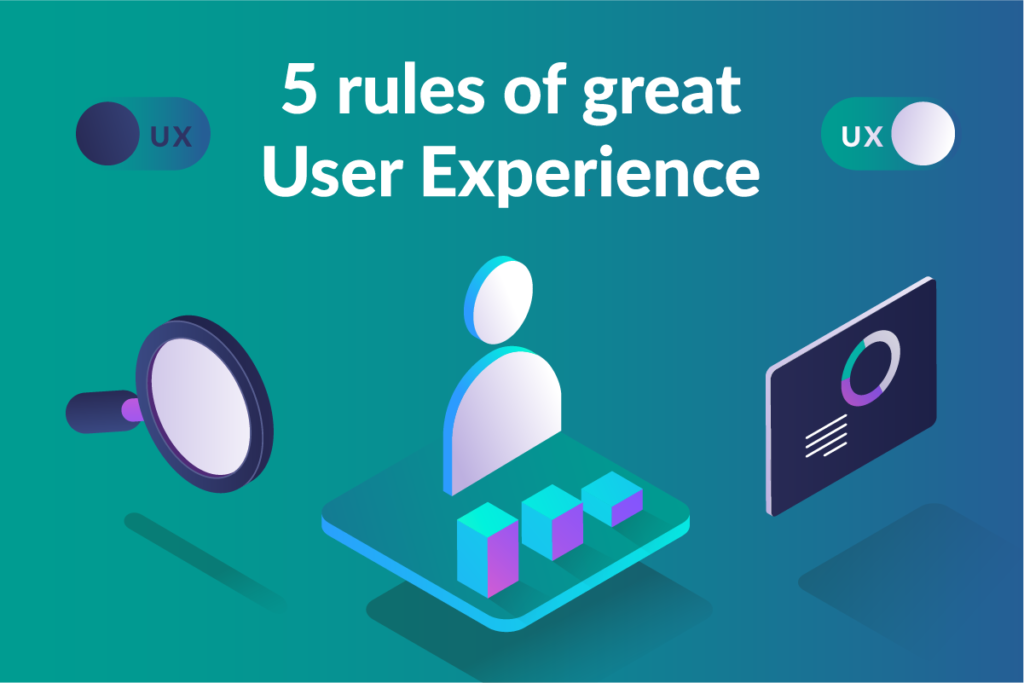 The most important elements of the interface are:
buttons, text boxes, check boxes, various types of menus;
information elements (e.g. hints, notifications, warnings, messages, progress bars);
navigation elements (e.g. search field, icons).
These 5 UX rules are fundamental if we want our website to be useful and effective:
1. First Impression
Make the first impression on your user as great as possible. 2.6 seconds is all it takes for the users to make the first conscious impression of a website and 94% of the first impressions on a website are based on its visuals and design. Statistics show also that around 38% of website visitors don't engage with unattractive web design. All these numbers highlight the importance of the user's first contact which is the most important moment in their journey.
2. Responsive Design
Make sure the website design is responsive and accessible. Nowadays, when mobile phones are omnipresent and many people browse websites on their mobile phones instead of on their laptops or PCs, it is crucial to make your website mobile-friendly.
3. Consistency
Don't make unnecessary changes on your website and strive for consistency. Users like to be comfortable and when they find the website changes each time they return, it confuses them. As we know there is only one step from confusion to irritation. This can discourage people from visiting again or might even cause immediate closing of the browser. The consistency rule applies to all aspects of a website; functionalities, commands, nomenclature, iconography, buttons, colors, menu layout, etc. all these once used, must be consistently reproduced as users expect predictability.
4. Simplicity
This should become your motto. Good UX is all about improving the experience of the user while browsing your website. Is there any better way to make users' lives easier than to offer them simple design, functional and clear interface? A quick page load time and labor-saving interface in which the number of necessary actions to obtain the result is minimal could impress your page users, as time is of the essence.
5. Content Relevance
Publish only valuable content. Don't fill your website with unnecessary text, instead use beautiful graphics to fill the empty space.
Maya Angelou once said: "At the end of the day people won't remember what you said or did, they will remember how you made them feel".
Web designers should remember about the user experience every step of the way to creating accessible, functional and intuitive websites, from the initial design, through the selection of specific solutions, to ongoing maintenance and updating. Designing a user-friendly website might be a challenge but without a doubt it's an investment that will pay off in the future. Users are more likely to return and recommend your website if they had a pleasant experience the first time they visited.