Don't put the brakes on your video content! 8 alternatives to traditional video for your marketing campaigns.
During the pandemic, many video projects have either been postponed or cancelled. Opportunities to film in the outside world have been largely restricted, meaning that many video marketing ideas have become difficult to realise.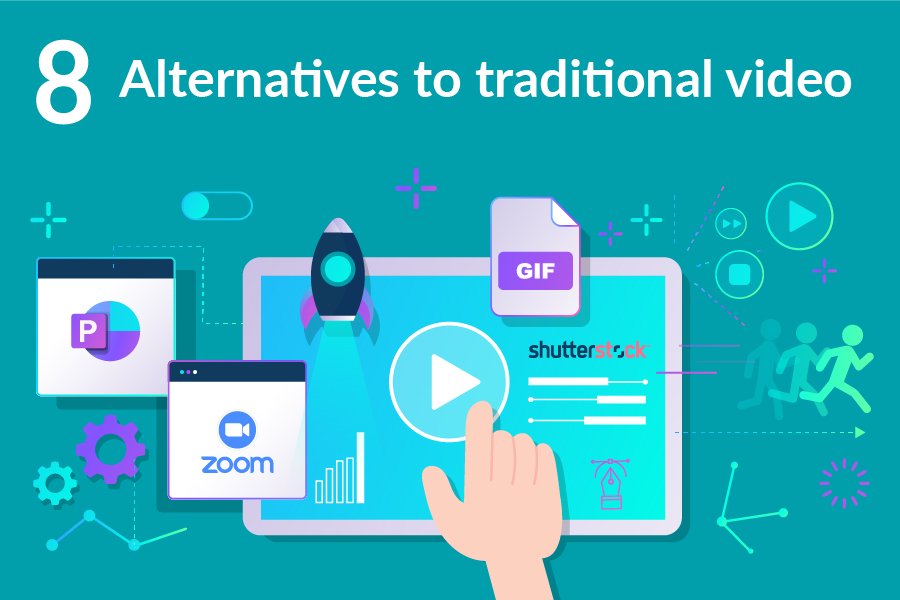 However, putting the brakes on your video marketing is not only unnecessary but unwise given the options that are still available to you. Eyes are firmly on screens for longer than they ever have been before, so now is the perfect time to create content that will kick-start your marketing campaigns. Adapting live-action briefs into different types of media is straightforward.
Here are some alternatives to traditional video that will inspire you to move forward:
Animated Explainer Videos – animation is a great option, not only is it arguably the No.1 visual media for engagement on social media, it gives you the freedom to visualise literally anything you can imagine. From short-form ads to product/service explainers, you have the ability to communicate your most important messages in a variety of ways. The more entertaining, humorous and informative you can make them, the better your content will be received.
GIFs – no doubt you've shared GIFs from sites like GIPHY and from across social media. However, in order to preserve your company's brand, it's important to create branded content. Custom GIFs act as call-to-actions to draw your audience's attention towards in-depth content such as; white papers, webinars, virtual events and even feature articles. If used correctly, GIFs can kick-start your buyer's journey.
Infographic Videos – repurpose your existing infographics or have a new graphic created that can be used as a basis for your video. There is simply no better way to visualise stats and facts than in infographic form. If you can add motion into the mix, you will have a compelling video to communicate all your research.
Photo Slideshows – make the most of high-quality product or promotional photographs by creating a custom animated slideshow. Combine images with animated text to clearly demonstrate what you have to offer.
Stock Footage Videos – we're spoilt for choice when it comes to online stock footage. Sites like Shutter Stock offer a vast collection of HD and 4K footage to choose from; tech, healthcare, lifestyle, they've got it all. As long as you work with a video editor to create a clear narrative, you can produce TV-quality content that will stand side-by-side with filmed videos.
Powerpoint – believe it or not PowerPoint is a pretty powerful tool. We've all seen the subpar white slides from last-minute presentations but if you can utilise animation, stock footage and a clear, branded design you can achieve great results. Bear in mind that any presentations you produce can be uploaded to Slide Share on LinkedIn to share further.
Anyone who has seen Ryan Reynold's marketing video for Mint Mobile will know how effective PowerPoint can be.
Personal Branding Videos – if you have access to a camera, ideally a DSLR, you can record yourself at home. Quality is of huge importance here, so ensure that sound quality is at a premium and you include branded titles where possible. A professional agency will be able to edit the footage and add titles to make sure your video is representative of you and your brand.
Video conference recordings – we've all been glued to Zoom over the last couple of months. Why not record the conversation (with the participant's permission of course) or set up a more formal podcast interview. Quality can be an issue here but under the circumstances, online recordings are acceptable. If you can get your footage into the hands of a video editor they will segment the content for you into bite-size chunks so you have plenty of content to publish over the coming weeks and months. The same can be said for all video content; as much as a possible plan to segment your content so you get the maximum mileage and ROI from your videos.
These are the best alternatives to traditional video available for us now. If you are looking to adapt your video briefs into any of the suggestions above, we can support you. To start a project or if you have any queries, contact us.