A celebration of home-grown creative talent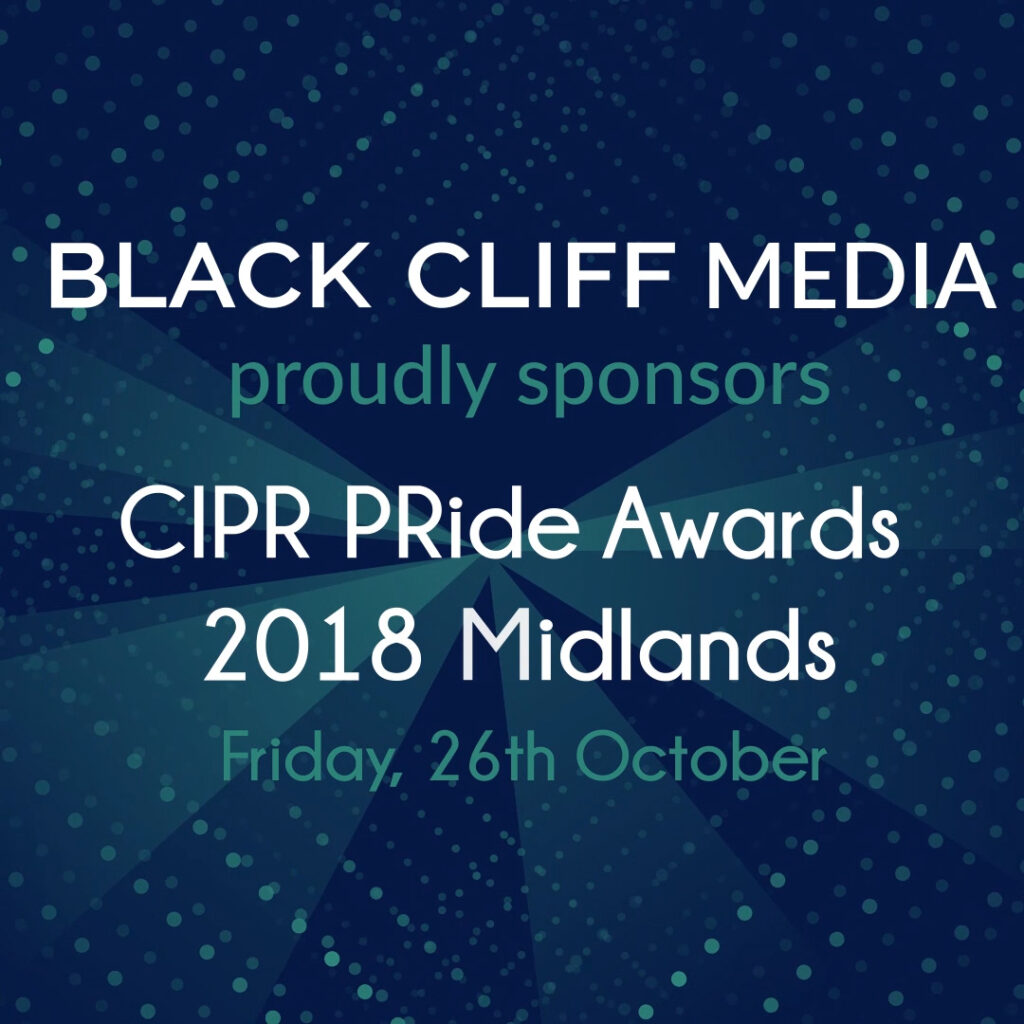 We're back in town…
Black Cliff Media are once again delighted to sponsor the Chartered Institute of Public Relations PRide Awards, which will be taking place at the Macdonald Burlington Hotel, Birmingham.
This year brings with it a wealth of talent and creativity from the Midlands and we are thrilled to be announcing 1st and 2nd prizes to the forthcoming winning nominees from the 'Best Use of Content' and 'Public Sector Campaign' categories.
Last year proved that the Midlands is home to some of the most progressive thinking PR agencies who demonstrated a host of well designed, innovative and superbly choreographed campaigns – offerings which capitalised on effectively using a range of media platforms and strategies to not only hit the mark but also raise the bar.
Need a refresher?
If you missed last year's highlights, click here for a round-up of awards that our very own 00 agent and Managing Partner, Edward Loades presented – as well as our in-depth Derbyshire Constabulary Interview that shed light on the PR genius that steered this outstanding campaign.
This year guarantees to be as promising with a broad and diverse spectrum of highly polished entries taking centre stage. Here's a brief glance at this year's nominations.
Meet the nominees
Entries:
Public Sector Campaign:
-Liquid & Birmingham City Council:
'Birmingham "Handover" and "Homecoming" for Commonwealth Games 2018'
-McCann PR & Social, Birmingham and Midlands Connect:
'Midlands Connect: making regional transport a national conversation'
-Syndicate Communications:
'Shakespeare's Celebrations'
-Telford College
'Define Your Future with Telford College'
-West Midlands Police:
'We're Talking Stalking'
'Best Use of Content' Category:
-Derbyshire Constabulary: 'Silent Night'
-NFU Mutual: 'Rural Crime Now'
-Tank: 'Destination Employer'
-The Marketing Pod & Inenco: 'The Cost of Inaction'
-WAA Chosen: 'Gibbs & Dandy, The Daily Nail'
-WPR: 'All that Glitters is…gravy?'
Information detailing all of the categories, nominees and awards can be found here at the official CIPR PRide AWARDs 2018 website: http://ciprawards.co.uk/pride/midlands/shortlist/
As usual, we will be bringing you all the highlights from the awards ceremony as well as backstage insights and attendee impressions plus some very special extras.
If we don't see you on the night, we'll see you in the morning!
START A PROJECT WITH US