AdSmart from Sky – putting SMEs into the spotlight with cost-effective TV Ads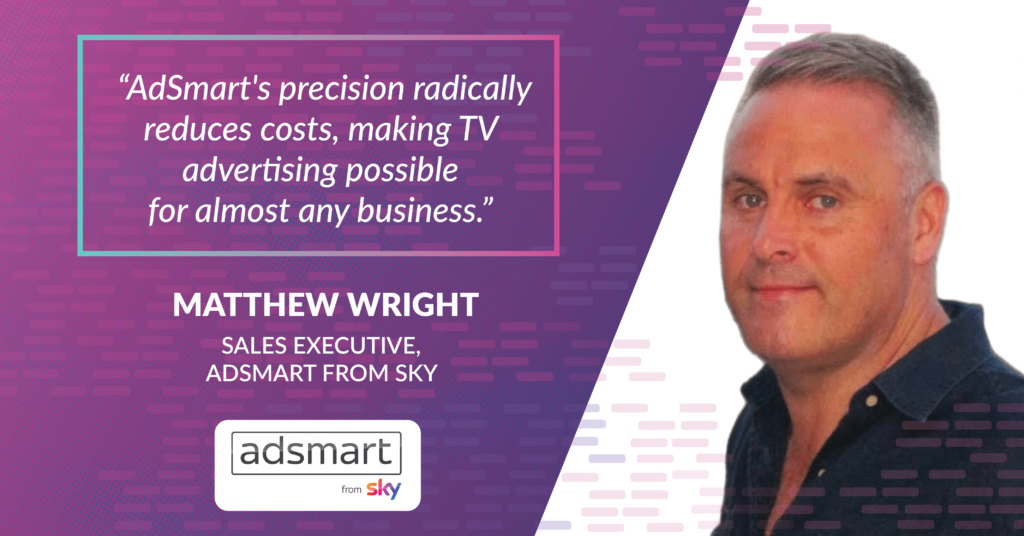 We welcome Matthew Wright, Sales Executive for Sky Television's advertising platform, AdSmart from Sky. Matthew has 30 plus years in marketing and sales across automotive, tech and retail.
We spoke to Matthew about why AdSmart is so attractive for SMEs, both B2B and B2C and how the platform provides a cost-effective solution when historically TV advertising has been prohibitively expensive.
1. Can you tell us briefly, what is AdSmart and why TV advertising is still so effective?
With AdSmart, different ads can be shown to different households watching the same programme. This means businesses can now advertise on 100s of the nation's favourite channels, but only to the audience that matters to them. The award-winning platform allows you to select households based on factors like age, location and affluence.
TV continues to be the most effective and trusted advertising platform there is. As a nation we're watching TV for over 4 hours a day on average, and TV delivers more profit per £ spent than any other form of advertising. Ask anyone to name their favourite ad and it's most likely a TV ad. This popularity translates into effectiveness. TV consistently outperforms other media in generating profit and is typically over twice as effective as the next best performing medium.
2. For most SMEs, TV ads are simply too expensive. How have you made AdSmart so cost-effective for companies?
AdSmart's precision radically reduces the costs, making TV advertising possible for almost any business. In fact you can advertise on AdSmart from as little as £3k.
3. The misconception of TV advertising is that it's only for B2C companies, can you explain why this works so well for B2B?
With AdSmart you can specifically reach households containing business owners and senior decision makers making it a perfect platform for B2B campaigns.
4. Can you give us an example of a B2B company that has had success with AdSmart?
We worked closely with SWIC, a telecoms and technology company who deliver advanced cloud based communications services. SWIC focused their AdSmart TV campaign on senior decision makers of companies who employ less than 50 staff, located across selected postcodes throughout the East of England. As a result, they reached a targetted audience of 40,000 SME business owners. Their enquires went up almost 25% than the previous year as a result of the AdSmart TV campaign.
5. Unlike traditional TV advertising, the main point of difference of AdSmart is the targetting, similar to an online Ad. How does this work?
Through a combination of Sky's own data and third-party providers you can select which type of households will see your TV campaign. So you know it's relevant and you're not paying for households that won't buy your product or service. We can also help you identify attributes that mean they're more likely to buy your product from our research insights (for example, did you know people who have recently moved house are more than twice as likely to be in market for a new car).
Other good examples might be the importance of home ownership for a replacement window company or the age of children in the home for a theme park or leisure venue.
6. Does AdSmart provide performance analytics so marketing teams can prove the effectiveness of campaigns?
Yes. Through Sky Analytics we can track the campaign's effectiveness whilst it's live and provide performance data. We can also track and analyse campaign performance across our other tools; Web Attribution, performance evaluations and a brand insight study.
Many thanks Matthew, appreciate you taking the time to talk to us.
To get the ball rolling with your TV Ad, contact us directly. We can help develop a creative idea that can be filmed or animated!
We work closely with Sky so either Matthew or one of his colleagues is always on hand to provide more information about the platform.