B2B Video Mastery: What can be achieved in 1 day of filming?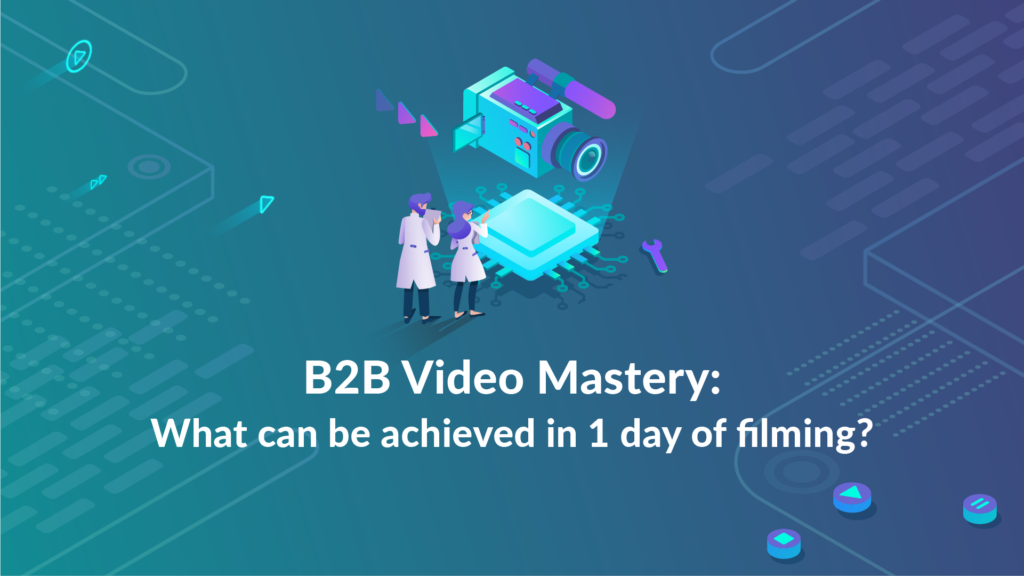 Time is precious for all B2B senior decision-makers and marketing teams. The creation of meaningful marketing content can be hugely time-consuming involving a number of team members to get the content over the line. However, with a small amount of preparation, the volume of content that can be created in one day of filming will surprise even the most experienced comms professional.
With a number of different types of video content available, you can approach a day of filming in a variety of ways. Here are a few tips to getting the maximum value out of your day.
How many interviews can you film?
The benchmark for any type of video project is 8-10 interviews in an 8 hour day. Between 20-30 minutes per person should be sufficient for individuals to deliver the message you need. Avoid teleprompters as much as possible so answers are conversational and relaxed. There is nothing worse than dry, corporate interviews.
What types of content should I consider?
1) Company Culture Video – If you're starting out on your video journey, a culture video is a good starting point. 1 day of filming will allow you to gather interviews from your CEO, technical experts, key account managers, as well as some beauty shots of your offices. For prospective clients, getting a sense of your companys' values and characters within your organisation can build a significant level of trust from prospective and existing clients.
2) Recruitment Video – Every B2B organisation is looking to attract the best talent in the industry. Communicating a happy, stimulating environment through video can ensure the right candidates apply. Hybrid working schedules can be a challenge but organising your team to come in for one day isn't a big hurdle.
3) CEO/Founder interview, plus topical mission statements – Providing a strong voice from within your organisation is crucial for both internal and external comms. This can be considered as 'personal branding' but it is more about making your CEO as accessible as possible. Prospective clients should feel comfortable dropping a comment directly to your CEO on social media. Filming a number of short, to-the-point statements for LinkedIn for example will provide key messages from within your organisation; company announcements, webinars, training programs and even campaign successes. If your CEO isn't comfortable appearing in front of camera, nominate a spokesperson or marketing manager to participate.
4) Media Training Videos – For PR companies, media training is crucial for preparing senior decision makers for media appearances. Offer an in-depth filming day as part of this session. This will provide senior decision-makers with a series of videos to reflect upon company messaging and how they personally come across to the media.
5) Testimonial videos – this type of content is gold dust for any organisation whose product or service has improved a clients' business operations. If you have a good relationship with a particular client, organise a filming day to visit their offices and interview as many staff as you can. Getting your most valued client to speak about how your company has improved their business is possibly the most valuable content you can create.
6) Roundtables – Film a roundtable in it's entirety with follow-up interviews with contributors, press or audience members. This will provide you with a huge volume of content. By filming a full roundtable for 1 hour (or however long your roundtable lasts) will allow you to edit each speaker into individual videos. This should give you up to 8 speaker videos, as well as any post-roundtable interviews. This can all be achieved within one day.
7) Event video – Document the entirety of your event; showing packed attendance, speakers on stage as well as delegate interviews. If you want to celebrate your event, there is no better way to achieve this than by having a small filming crew on hand throughout the day. Again, you can film additional content such as testimonials and interviews with your most valued clients. In one full day of filming you will gather highlights of the event as well as a series of insightful interviews.
8) TV Ads (AdSmart from Sky) – TV Ads for SMEs have never been more affordable. B2B organisations should think seriously about the benefits of wider brand awareness through TV advertising. AdSmart from Sky is a good starting point who provide a clear indication of cost and how you can target your Ad to decision-makers. Sky work in conjunction with a number of carefully selected production companies who will do the filming for you. Your Ad will appear next to big brands and can be used for social media as well. In fact, TV Ads that are run alongside social media campaigns are 31% more effective according to TV research body ThinkBox.
How do I get maximum ROI out of your 1 day of filming?
Ahead of filming, consider carefully how many individual videos you want. If you're not sure, simply ask what is achievable? You'll be surprised by the answer.
Consider what platforms you want to publish on as well? For B2B companies, don't package everything into one single video for YouTube, that would be a waste of the filming day. Always consider the option of having the content edited into bite-sized, easy-to-consume videos, as well as sound bites for YouTube Shorts for example. This works particularly well for roundtables, speaker profiles or CEO interviews.
Happy filming!
To find out what can be achieved for your business in 1 day of filming: