Case Study: Zero Outage Industry Standard Association
"Black Cliff Media are truly professional,…they put people in the right light and… understand the content and what we want to achieve."

Stephan Kasulke, Chairman of ZOIS Association.
Case Study: Zero Outage Industry Standard (ZOIS) Association
Our core values
For us, here at Black Cliff Media, there is nothing more vital than delivering engaging content that exceeds our clients' expectations and facilitates the delivery of highly successful marketing campaigns. Seizing creative challenges and providing effective solutions remains at the heart of everything we do. In order to achieve this, we pay special attention to listen to our clients until we have identified their needs inside out.
The Client – The Brief
Just one example of where we brought a multitude of content mediums to an effective spear-point within a single campaign was our work for the Zero Outage Industry Standard (ZOIS) Association and their – members' event at King's Place venue, London.
The association represents a collective of some of the largest and most influential tech leviathans from around the world including IBM, CISCO, DELL EMC and T-Systems, to name a few. Having recognised the need to standardise their practices to ensure dependable operations both individually for their customers and collectively as an industry.
In their own words, the Association: " …focuses consistently and systematically on quality with the aim to prevent IT outages and learn from each other." To this end, the decision was made to host an event to champion the Association's vision by welcoming new companies to join, convey to the audience the benefits of membership – while providing the necessary spark for healthy discussion and constructive problem solving in the process.
ZOIS approached Black Cliff Media to articulate the ambitions of the association. We quickly set to work to conceptualise what these existing and future high-tech members shared in common to build an effective targeted campaign from the ground up.
The Idea – Changing Lanes
Taking inspiration from the technologically sophisticated team-based efforts of Formula One and the similarly high-speed, ever-evolving world of ICT – we knew that this could form an all-inclusive, easy-to-grasp metaphor for attendees. By placing the members into the shoes of a competent F1 team, drawing on the strengths and skill-sets of the various experts, engineers and race crew that constitute every phase of an F1 team's journey to the finish line. With this we knew we had just set the stage for a dramatic and captivating campaign.
Landing Page – Providing a warm & inviting welcome
To strike home the significance of the venue location and announce the event – we created a dynamic, responsive landing page. This provided visitors with a first port of call for registration, as well as a one-stop shop for information, including the goals of ZOIS, speaker line-up and programme schedule. The site was visualised using a bespoke London skyline design created by one of our award winning in-house graphic designers.
To ensure that there was never any doubt as to the identity of the event itself and to provide a physical presence wherever possible – we sought to use any and every opportunity to brand, wherever possible. Replicating the imagery of our landing page, flyers were produced with event specific information on the day and handed to visitors upon arrival.
Animated Explainer Videos – Visualising the message
We created four animated explainer videos, each of these used the F-1 theme to articulate four key work-streams: People, Processes, Platforms and Security. These processes, as defined by the Zero Outage Industry Standard, provided members with the means to achieve a shared zero outage goal within the industry. Each of these videos featured highly customised anatomical, automotive illustrations with every frame brought to life using a whiteboard video technique.
These videos became a talking point, both on and off the event stage, literally. Screened ahead of each guest speaker, they served to invigorate and captivate audiences and visually set the tone for discussions that followed.
Graphics and Event Branding – Heads-Up Displays
Reinforcing the detailed artwork contained within the animated explainer videos, large roll-up posters were used to adorn walls and free mounts arranged for communal areas on the day, providing the perfect backdrop for informal, topical conversation among peers. Even bespoke, custom designed stationary received the F1/ZOIS themed treatment.
Event video and interviews – Covering all angles
But to truly provide added value Black Cliff Media were in attendance, complete with a camera crew to project the significance of such an industry gathering as well as to capture the positive energy and charisma of the speakers and the fantastic level of reception they received from their audience. We ensured that all of the ZOIS work-stream leaders were interviewed to assist in providing a personal and clear account of the challenges and rewards in realising a shared zero outage goal. We created a feature video interview with Stephan Kasulke – Chairman of ZOIS Association, to provide ZOIS with an overriding face and voice for what the Association is striving for.
Segmentation – Going the extra mile…
Finally, like any creative agency worth their salt – we wanted our client to get the most value from the content produced. Our event video and explainer videos were circulated using social media to carry the momentum and reinforce the strength of the message long after the event came to a close.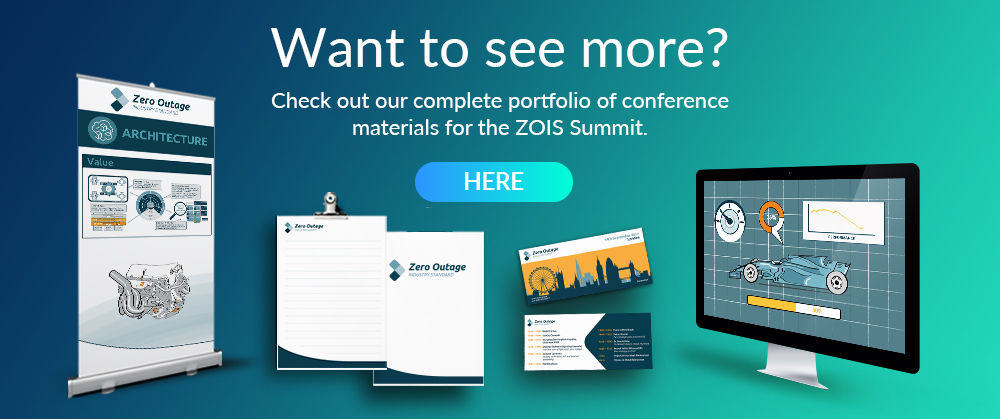 START A PROJECT WITH US