How to align a solid communications strategy with a business plan in order to achieve growth.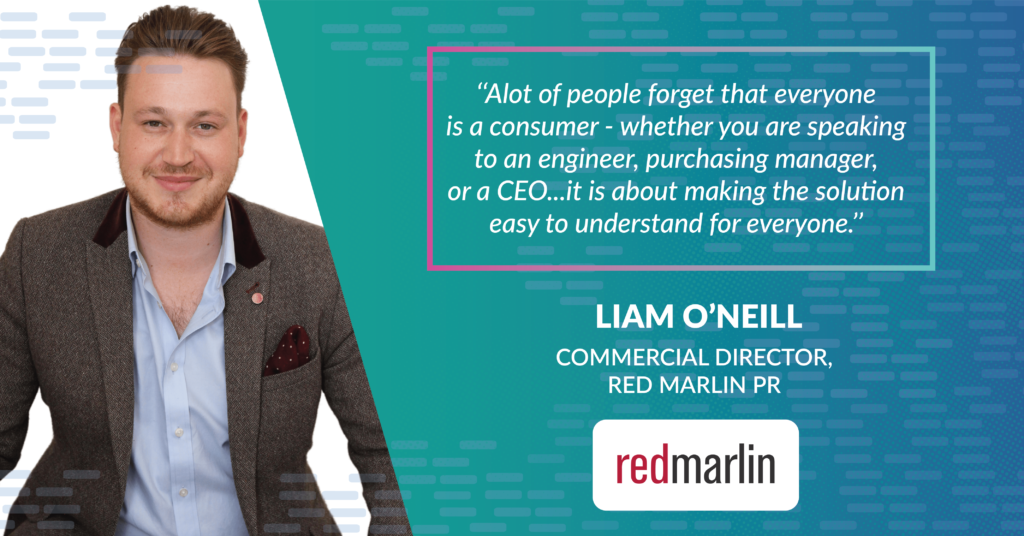 We spoke to Liam O'Neill, Commercial Director at Red Marlin Ltd who are a PR Communications specialist for automotive businesses. Liam firmly believes that clients who are willing to share their business plans get the best results from their communications strategy. Today's clients not only expect quality media coverage and brand awareness from their agency, but also significant financial gains for their business.
1. Have you noticed a shift in client expectations in terms of business outcomes from a communications strategy?
Absolutely! Over the last 18-24 months we have noticed a definite shift in client expectations in what PR can deliver for them. For sure, there is still a strong focus on relevant, quality media coverage, and I'd imagine there will always be, but we are seeing a lot of companies coming to us to help support their business development – from lead generation, attracting investors, attracting talent, collaboration opportunities, and product sales.
This is partly due to all of the exciting new companies now operating in the automotive sector as the focus is very much on low carbon propulsion technology across all forms of transport. From start-ups specifically focused on automotive to technology companies with a product which has a relevant automotive application.
2. What key information are you hoping to learn from a client's business plan?
For me, it is always a question of 'why'… why, are you doing this? What is your purpose, and where do you want to be in five years' time (or less in some cases) and how are you going to get there.
It is about having an honest conversation right at the start of any client-relationship so we can develop a PR and communications strategy which will contribute in supporting the business plan and support its employees in achieving their goals.
3. How does this inform what is included in a PR and communications strategy?
It lays the foundations for the majority of our clients' PR and communications strategy. From the objectives, target audience, media outlets/channels, the calendarised activation plan, and also heavily influences the KPIs.
4. How do you measure success and what do you present to your client on a monthly basis?
For each client it is different. As I mentioned earlier, there are so many different types of businesses now operating in the automotive sector there can't be a one-size-fits-all approach, so it really varies based on what the client's business plan is and what 'good looks like' to them.
I briefly mentioned KPIs in my previous answer, but these are hugely important for measuring success and understanding the PR and communications strategy is working. When I started out in the PR world (both in-house and agency side) KPIs seemed to be a tool purely to bash people over the head with or sack them. Most people didn't understand them and they often lacked any intelligence. I am happy to say that along with the rest of the Red Marlin team we are changing this and creating a culture internally, and with our clients, where KPIs offer clarity and are a genuine tool for what is working and what needs reviewing. It is not about bashing people over the head, it is about being realistic and adapting the approach if needed in the interest of satisfying the business plan. KPIs should never be feared by anyone.
5. For more complex automotive or technology solutions, what digital content have you found to be most effective in a communications strategy?
Again, it really depends on the product and who the audience is but simple explainer animations or videos which demonstrate the benefit or the problem the product (or business) is trying to solve always work well.
A lot of people forget that everyone is a consumer – regardless of whether you are speaking to an engineer, a purchasing manager, or a CEO. So, although in some cases you need to be technical, it is about always making the solution (and benefits) easy to understand for everyone.
6. In addition to a solid understanding of a client's business goals what other points of difference does Red Marlin offer?
Honesty and understanding. We genuinely have a great team with a strong mix of backgrounds. Some started as journalists, some have worked in-house for some huge blue-chip brands, some have joined from outside of the automotive sector. But it means that we understand the challenges of the press (who we also consider our clients/customers) and we also understand the challenges of all of our clients because we have been their side of the fence.
This has allowed us to become genuine extension of their teams which is something we really like.
Red Marlin is a PR agency based in Leamington Spa, Warwickshire offering a wide range of services from PR & Media relations, Advertising and Digital Content. Please contact Liam O'Neill directly for more information: