How to build a highly motivated team through learning, technology and a core value system.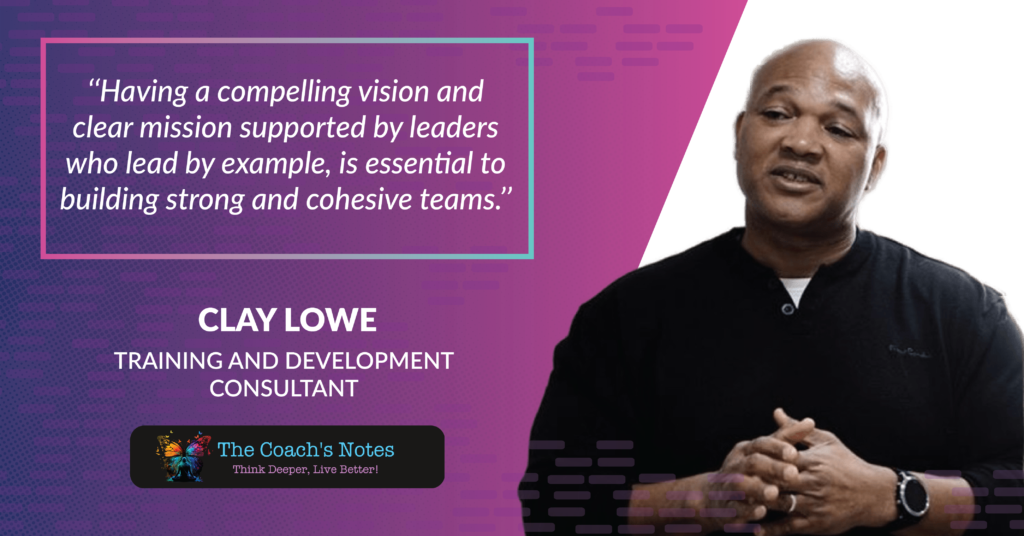 Clay Lowe is a Team-Building Coach & Learning and Development consultant, with 22 years helping teams to perform at their best. As a graduate of the US Military Academy at West Point, Clay uses his experience as a team leader to instil core team values. We discuss his unique approach and how to stay connected in a hybrid-working environment.
1. How has your military background informed your approach to building strong, cohesive teams?
In the military, you live and die by the strength of your teams. Without unit cohesion, people die.
Having a compelling vision and a clear mission supported by leaders who lead by example, is essential to building strong and cohesive teams. You also must build meaningful relationships with everyone in your team. Trust and open communications are paramount. These principles hold true for any organisation. Read Patrick Lencioni's The Five Dysfunctions of a Team.
2. Many organisations are now utilising a hybrid approach to work. How do you ensure that teams don't lose their togetherness or productivity when working remotely?
For togetherness, it's important to touch base frequently with each other on an informal basis. When you're team works remotely, your meetings become very transactional. You tend to hop on a Zoom or Teams meeting, say what needs to be said and then you're off to the next Zoom meeting. You don't do those standing in the corridor moments to informally connect with people without the rigid constructs of a meeting agenda. So it's important to recreate those moments in a virtual environment. You can do that by holding an informal team gathering in the Metaverse. Engage VR or Meta Horizon Worlds are great places for this. If you want to stay in flatland, you can use tools like Miro to add a level of interactivity that is more engaging than staring at a Teams screen.
The best way to ensure productivity is to make sure, as a leader, you set outcome focused goals and objectives. Tell me what needs to be done and by when, and then let me get on with the task. And be sure to hold me to account if I fail to deliver on time and to standard.
3. You are a strong advocate for technology. Other than Zoom or Teams, can you name any tech that you feel is essential within a team environment.
Oh wow, there are so many tools out there. Organisations get fixated on Zoom or Teams and miss the opportunities to make remote working so much more impactful. I've already mentioned working in VR and the Metaverse. If you want to see your productivity increase, how about using apps like Immersed VR. Want better collaboration between teams, use apps like Glue, Engaged VR, or Arthur. Want to foster team cohesion, use apps like Microsoft's Altspace VR or Microsoft Mesh.
4. Aside from developing technical skills, what soft skills do you think are most important?
People skills (the new name for soft skills) are immensely important. Organisations don't give this as much attention as they should. There are so many people skills that are important, but to name a few: influencing skills, sales skills, negotiation skills, emotional intelligence, leadership skills, coaching skills, managing skills, interpersonal communications skills, presentation skills, listening skills, effective writing skills, I could go on.
5. What values do you think companies should be looking for when recruiting new team members?
The answer to this question must be specific to the company. Every company will have a different set of values based on what is important to them and their business, and how they want to be an organisation. For example, the U.S. Army values are: Loyalty, Duty, Honor, Respect, Selfless Service, Integrity and Personal Courage. When I worked for HSBC, the values there are: Value differences, Succeed together, Take responsibility, and Get it done.
What I will say is make sure you are recruiting in line with your company values and that the individuals you are recruiting are aware of those values. Individuals should be clear about what their personal values are so that they can ensure their personal values don't clash with the company's values. As I mentioned at the start, values are a big part of building strong, cohesive teams. Get the values right, and you get the team right.
Connect with Clay Lowe on LinkedIn for any further questions.
Thanks Clay!