How to Build PR that Generates In-Bound Sales Leads?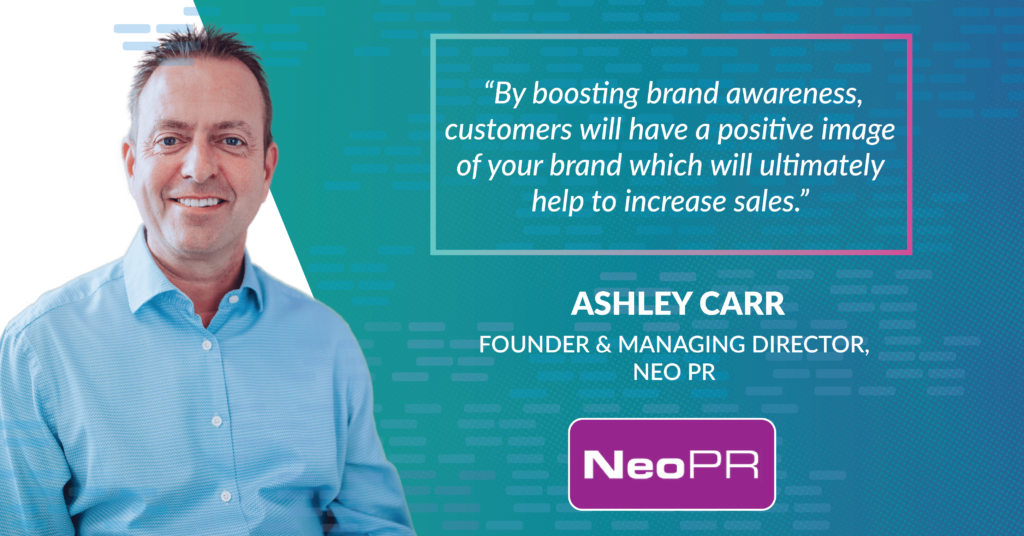 Ashley Carr is the Founder and Managing Director of Neo PR, based in Buckinghamshire, UK. His company specialises in B2B Tech PR for IT and ICT Infrastructure companies, Retail, Supply Chain / Logistics & Healthcare Tech.
Clients within the tech space expect more and more from their agencies, not just delivering outstanding press coverage, PR outreach and SEO content but also meaningful sales results. Ashley explains how PR can deliver on these demands from high profile technology companies.
1. Typically, public relations has been about shaping public opinion, getting clients into the media and increasing overall awareness. Has PR changed over the last few years in terms of focusing more on sales results?
Success depends on the reputation of a business, no matter how big or small. A Public Relations (PR) strategy is a key management tool to help organisations achieve their goals and improve their image. Publicity can help to reach a wide audience, giving businesses a bigger platform and also making them more credible. By boosting brand awareness, customers will have a positive image of your brand which will ultimately help to increase sales too.
A strong online profile that combines an excellent website with numerous recent articles, from thought leadership pieces to comments, is a considerable assist in the sales process. Articles that reflect issues and events currently affecting the customer and prospect base are incredibly valuable in demonstrating an organisation's market knowledge, understanding and expertise. A focused, thought leadership led PR campaign builds credibility and reinforces the company's reputation, delivering that essential confidence to prospects during the sales process.
2. What can PR services offer over an automated lead generation tool?
Public relations can give your content a unique touch and add value that will set you apart from your competitors. Through PR, a dialogue and explanation are offered for how your product can benefit your customer or why someone would trust your opinion. As a result, you will be able to showcase your knowledge, experience and skills to consumers, and can position yourself as an expert in the field.
Of course, PR is just one of many marketing channels. Achieving consistent messaging across the entire marketing mix is also key – yet many organisations are actively selling without any clear understanding of brand values or differentiators. The process of embarking upon a thought leadership approach to PR can help organisations to refine messaging; while the content created can then be used consistently through every channel to reinforce credibility.
3. In addition to written content such as white papers and thought-leadership articles, what other types of content do you create to engage with new prospects?
SEO content has become increasingly important as technology continues to progress across the world. Being featured on popular websites and / or those with high domain authority, as well as other media platforms, such as partner and customer websites and social media channels is one of the most effective ways to boost your company's online presence. When you optimise your brand's content for search engines, you also boost its visibility, which in turn increases your PR message's reach. You can strengthen your SEO and make your business more visible on the search engine results page by doing this.
4. And in terms of visual content, have you experimented with interactive for example?
Multimedia and interactive content is growing in popularity and engagement, with the primary form of media used in content marketing being video. For both our clients, and our own corporate PR, we have used video content to help share important messages and get involved in industry conversations – but with a visual and audio appeal. However, there are other exciting and interactive methods that can also be used in a PR campaign, such as using polls on social media to engage with your audience, creating infographics of key statistics, as well as offering live streams, podscasts and webinars.
5. How has the role of a PR professional evolved so that individuals have the skills to initiate the sales process?
From creating strong, consistent messaging and content that can be used across every marketing channel to enhancing a company's online presence and credibility through well placed articles and comments, it is a PR's Sales Assist role that delivers real, long-term value further supporting the PR professional evolution.
6. Other than press coverage, what other evidence do you provide to your clients to assure them of the ROI for a PR campaign?
PR generates inbound leads to the business and increased traffic to the website (SEO and inbound links). It also magnifies the efficacy of the other marketing channels through brand awareness. In addition, appearing in search results in well respected, highly page-ranked publications creates a halo effect where your brand is positioned positively in your marketplace. Public relations is a cost-effective option for all sizes of business. Executing a PR campaign continuously and consistently builds trust and credibility for a business over time. There are a few ways that you can use PR to maximise ROI, including speaking engagements, influencer placements, and thought leadership. Additionally, media coverage helps to generate awareness and demand for a company's products or services.
Many thanks Ashley for your insights.
For more information and to start a conversation, connect with Ashley on LinkedIn or contact him directly:
ashley@neopr.co.uk
https://neopr.co.uk/