Interview with Tim Luft, Innovation Lead at Create Central
We had the pleasure to interview Tim about the positive impact his organisation is having on the creative sector, upcoming innovation initiatives and the importance of cross-sector cooperation.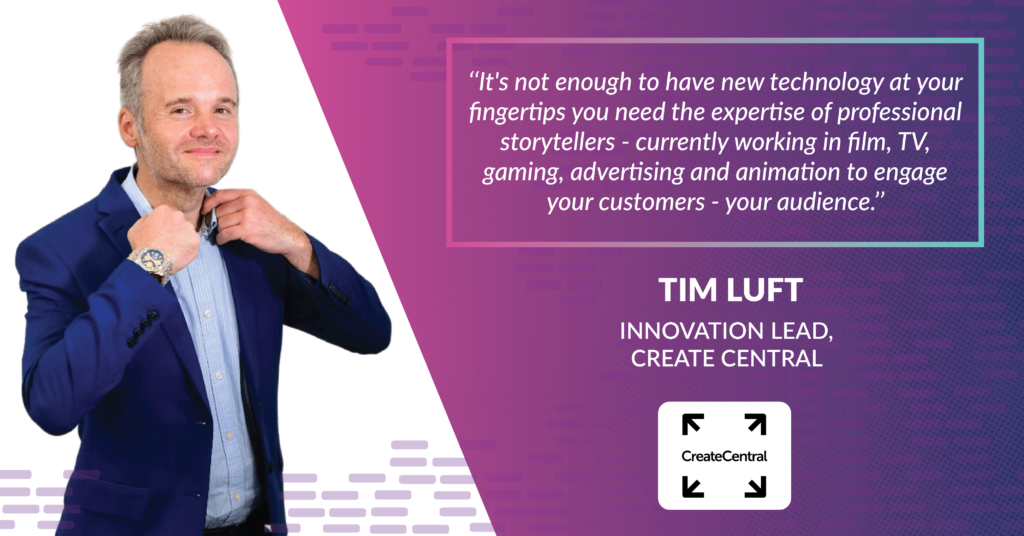 Can you tell us a bit about your role at Create Central?
My role at Create Central is Innovation lead – this involves helping to create the conditions which allow West Midlands Creative Companies to embrace innovation. Create Central brings together the creative industries and the public sector to work together to find innovative solutions to real-world problems. In practical terms my work involves the creation of pilot projects which provide practical support to SMEs – a good example is Positive Realities – a project which ran a competition to encourage the creative industries to explore the use of AR and VR as a platform to address the mental health needs of young people.
With your background in technology, what expertise are you bringing into your organisation?
I hope to bring a knowledge of cross sector collaboration opportunities between the creative industries and more traditional sectors such as automotive, healthcare and construction.
I also hope to bring my experience in identifying potential funding and bidding for funds to support the creation of new projects.
What can the technology sector learn from working with creative companies and vice versa?
From my experience, the creative sector can directly help more traditional sectors in the design and visualisation of content.
The creative sector has experience in developing highly engaging products – this skill is key in areas such as education and training.
The creative sector are also experts in storytelling – it's not enough to have new technology at your fingertips you need the expertise of professional storytellers – currently working in film, TV, gaming, advertising and animation to engage your customers – your audience. For example, the tourism industry is being forced to innovate right now – making more of their real world attractions available online, whether that is through a virtual tour or added value content for visitors – and this is where cross-sector collaboration is essential in supporting our tourism industry through Covid19 recovery.
What initiatives are Create Central currently running that you are particularly excited about?
I am really excited to see the winner of our Positive Realities project – this will the first major project I have been involved in and can't wait to see the final result. There are so many opportunities and benefits to come out of this project – all the SMEs that are taking part will come away with some great learnings and their own ideas about how they can move forward in the immersive space, we've already been really excited to hear their creative ideas and I know so much more will come from this project than just the creation of the winning product. It's also a fantastic opportunity for the young people of Coventry, some of whom will be involved in shaping the final product.
I am also very interested in learning more about the e-Sports sector and how we could create a dedicated hub in the West Midlands. E-Sports is a growing sector and with the 5G testbed right here in the region it's a great opportunity to nurture and encourage this hugely popular pastime. 5G has the potential to deliver many benefits to people, public services and businesses – so it's an exciting time to be working in this area.
Many thanks Tim, we wish you the best of luck with your upcoming initiatives at Create Central.
To learn more about Create Central, visit:
https://www.createcentraluk.com/