Is interactive content the future of marketing?
Nowadays people are swamped with content, so even if you spend significant time and effort creating it, there is no guarantee that your audience will engage with it. Traditional forms of content such as thought leadership articles, blogs, whitepapers and even videos, whilst still important in your marketing mix, present direct marketing messages that express a single point of view. Interactive content however, encourages consumers to actively take part in an experience and gives participants a platform to express their opinion.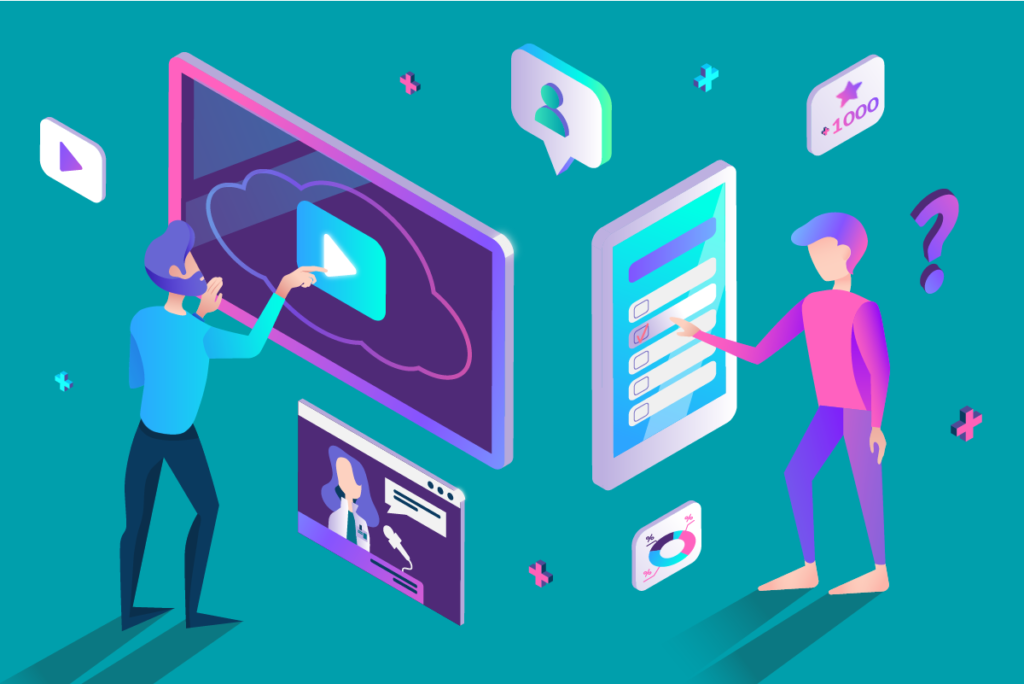 Why is interactive content worth considering?
Interactive forms of marketing not only offer a variety of options to navigate but also give you, the creator, an opportunity to impress with creativity and interactive design. An interactive infographic for example is infinitely more interesting than a static post. A survey actively encourages participants to offer insights which can be analysed and presented as a stats based article. Interactive content empowers users to offer their opinions rather than simply consuming marketing messages.
What forms of interactive content are the most effective?
When it comes to choosing the right type of interactive content for your company, there are many to choose from: interactive landing pages, interactive animations & infographics, surveys, quizzes and games. VR and AR are also viable options now that the technology has become more mainstream and relatively cost effective. With the arrival of Facebook's Meta, we may also be faced with a future where social media platforms are entirely immersive and interactive. Marketers will soon have a new virtual space to launch campaigns.

Who has run a successful interactive campaign?
IBM, one of the largest IT companies in the world presented an interactive film that enables participants to experience a simulated outage. Viewers are able to solve technical issues within a fictional 'power outage scenario' where the viewer can take action and solve the outage. IBM's scenario allows the viewers to create their own narrative based upon decisions made throughout the experience. 
US company, VenturePact helps other companies outsource, build and manage the development of their web, mobile and innovative tech products. VenturePact prepared a very useful tool for those who plan to build an app. They presented a mobile app cost calculator that can provides information about how much it would cost in different regions. The user is encouraged to go through 5 steps, where they answer various questions about features of the app and the final results of the questionnaire are presented on a fully interactive world map that shows the cost of app development and distribution by geographical region. This alternative approach to presenting the results is a very good example of interactive content.
Our own Black Cliff Media team produced 'House of Clouds 360 Degree Video' , a virtual tour of a highly secure data centre in Biere, Germany. The experience allows viewers to fully explore the facility and witness the impressive capabilities of the centre in both 360 and VR. High security details were blurred out so there was no possibility of a security breach. The experience was delivered both as a standard 360 video on YouTube as well on VR headsets that were positioned in the foyer of the company headquarters and at key technology events throughout Europe. 
Does interactive marketing have a future?
By implementing interactive into your marketing strategy, you allow your audience a certain degree of freedom and creativity, so they can proactively engage with a brand. Interactive marketing has been gaining popularity gradually throughout the last few years, but this trend is not going to end. On the contrary, the significant growth of interest in this form of marketing yields significant results. According to the Content Marketing Institute and Ion Interactive, 53% of all marketers report using interactive content and 81% of marketers agree that interactive content is much more effective at engaging viewers than traditional forms of content. SnapApp states that 88% of marketers said interactive content is effective in differentiating their brand from their competitors.
If you're interested in creating interactive content with us, get in touch for a free brainstorming session.