Podcast Interview with Camila Luz, Event Marketing Manager – Logic Monitor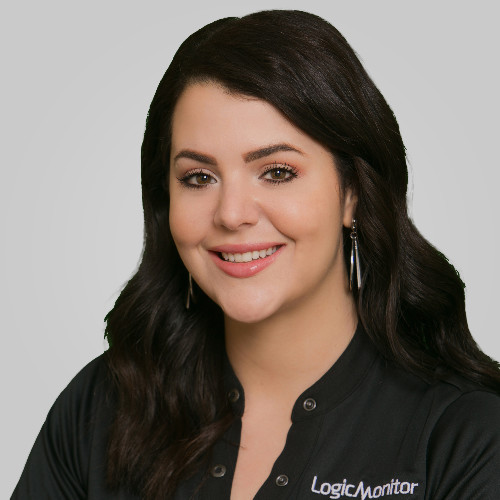 Podcast#2
For anyone yet to attend this trade-show (which is open to both the IT industry as well as the general public), it is a bedazzling assault on the senses. The exhibition space has an immense footfall of visitors. With over 300 exhibitors showcasing their wares across Cyber Security, Cloud Network Solutions, IoT, AI Analytics and Blockchain – it is packed with expert knowledge and cutting-edge tech.
It really does an immense job of representing the full spectrum of technologies that businesses require to enter and succeed in the digital age.
I wanted to put some questions to some of the gurus present on the day. Fortunately I was able to track down Camila Luz, Event Marketing Manager at Logic Monitor to get her thoughts on how Logic Monitor engage with their customers, her views on content marketing and general take on marketing strategies.
Jordan Copplestone: I'm here with Camilla of Logic Monitor. And she's very kindly just agreed for me to run some quick questions from a marketing perspective. So Camilla, how would you explain the benefits of digital transformation to your customers?
Camila Luz: Well, that's quite an easy question because we're a SaaS tool. So everything for us is digital. And you know, we get money through other people's digital transformation. And so for them to see the benefit now. We've always seen those benefits, so we're just trying to pitch our ideas to them, but everything is moving to the cloud. So if you don't keep up, then you know, it's going to be hard to stay in business.
Jordan Copplestone: So thank you, and from a content marketing point of view, how important is content marketing for your company?
Camila Luz: It's very important, we get a lot of leads through content syndication. So where we put content pieces out there for people to download, or even when we do case studies, video case studies, so it's extremely, extremely helpful. Everything nowadays is content-based. And that's what people are looking for.
Jordan Copplestone: That's great thank you. Finally, are there any new trends that you're using or plan to use as part of your marketing strategy?
Note From the Editor:
You've reached the end of our podcast's transcription intro – but your journey doesn't need to end there. Hit the podcast play button to enjoy the full, uninterrupted interview now.
Give your ears the chance to soak up some of the buzz at IP EXPO – hit play to hear the podcast now!
If you are a B2B Marketing Expert and would like to voice your thoughts on a range of marketing related areas, please feel free to get in touch with us.