Podcast Interview with Sabine Elsner, Marketing Manager Europe – AudioCodes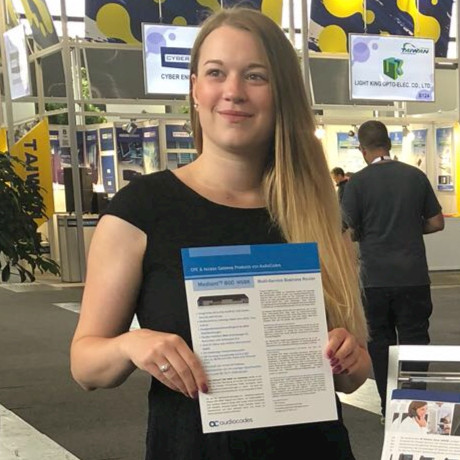 Podcast#3
Edward Loades: It's a Digital 2018 in Cologne, and I'm speaking to Sabine Elsner from AudioCodes. And we're just going to have a little discussion about digitalisation and AudioCodes, marketing moving forward, what they're up to and I'll let Sabine shed more light on that.
Sabine Elsner: Well, hi, everybody. My name is Sabine. Well, that said, I'm from AudioCodes I'm responsible for some European markets. Basically, meeting marketing AudioCodes is an Israeli company, based in the market for 25 years. We are a leading vendor of advanced voice networking and media processing solution for the digital workplace. And we enable enterprise and service provider to build their all IP voice networks for unified communication, contact centre and hosted business services.
Edward Loades: How do you explain the benefits of your product to your clients as it stands today?
Sabine Elsner: Well, actually, it's depending on a product. And depending on the client, even making a difference is it's say it's a technical person – normally would say, really classy, just keeping it down to the core not being too technical, making sure to have short webinars or something to give them in an impression of what the product can do. Not even how it will work, but even why you need it, because that's what it's going to do for you. And that's the benefit you're going to have.
Edward Loades: That's great. So what general challenges are you facing as a marketing manager at this moment in time?
Sabine Elsner: Well, I don't think that is it has changed a lot in the past years.
For us, it's still getting the right information to the right kind of person, as I said, depending on the kind of content we are using, so really making sure that people only get information they're interested in.
I guess that's basically the challenge. We have an even focusing on all building up the laws of how to use the data in the correct way even with the marketing. So I guess these are the most challenges we face at the moment.
Edward Loades: And do you have any sort of favourite channels that you go through? Do you have any, you know, you're favouring LinkedIn etc. Is that a powerful platform for you?
Sabine Elsner: Well, actually being in a market for communication telecommunication, where everybody is able to speak English to all people using LinkedIn are able to speak English of course, this is a nice tool to use. In German market, we are really traditional so using press releases doing a lot of articles, training, webinars, really just like the basic kind of old fashioned things work really well. For other markets like the UK we try to have, well short clips and videos to post via social media. My colleagues are really active on there, just like doing one to two minutes product presentation, even filming with an iPhone and put it on LinkedIn. And this is really working great.
Edward Loades: That's great. And so you mentioned a little bit about video but are there any other particular types of content that you found effective?
Note From the Editor:
You've reached the end of our podcast's transcription intro – but your journey doesn't need to end there. Hit the podcast play button to enjoy the full, uninterrupted interview now.
Hit play now to hear the podcast and get the full story!
If you are a B2B Marketing Expert and would like to voice your thoughts on a range of marketing related areas, please feel free to get in touch with us.