What do you need to know about dynamic content?
What is dynamic content?
Dynamic content is described as site content that automatically adapts to various conditions, without a change of URL address. The content featured on the website adjusts dynamically or under the control of CMS (content management system), so different users see different content. An example of such content is different language versions of the website or different weather forecasts, depending on the location of the user.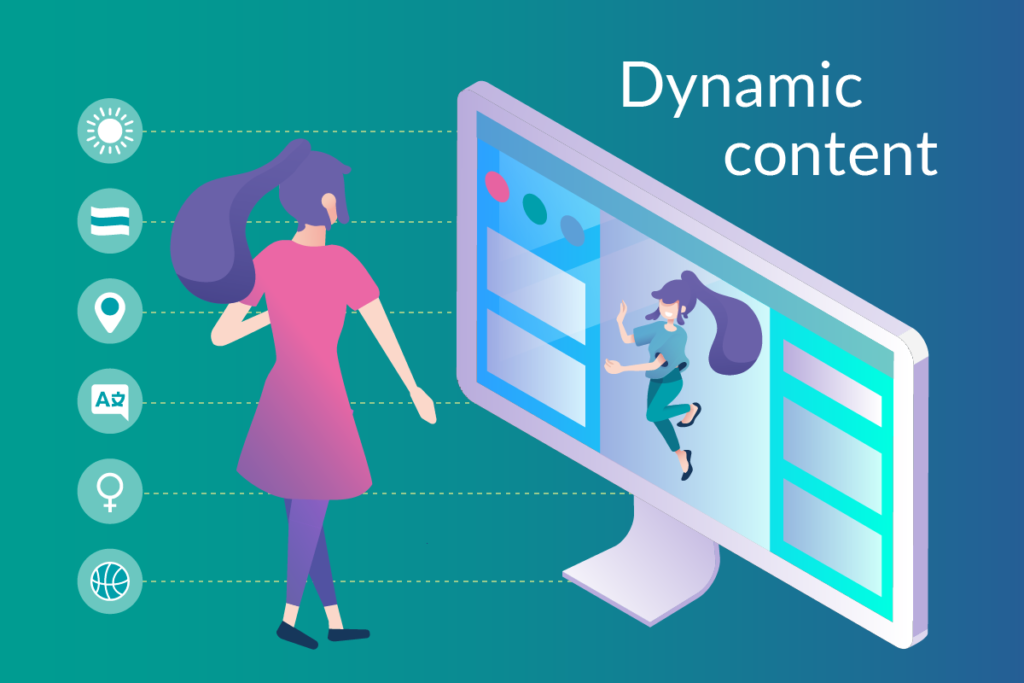 Adaptive content uses a database containing information on users' previous behaviour or interaction with the site to create changing standards on the website. Tracking data such as a person's location, user name, interests and other details is very useful when adapting the content to a given user. For example if we own an online shop with a very diversified asortyment, our site might adjust the suggested products according to the age, latest interactions or the sex of the viewer. A webshop may also use different content to appeal to both new and existing customers.
Why is dynamic content so important?
The main aim of the adaptive content is to guarantee customer's satisfaction and a successful customer's journey. It ensures a high level of website's personalisation. The biggest advantage of this data driven strategy is that it provides a customised experience for users, who can find things quicker. This in return results in a higher conversion rate.
4 main benefits of applying dynamic content into your website:
More Engagement


Dynamic content is a great tool to capture a user's attention that quickly leads to  interaction. Users' engagement is probably nowadays a major goal of brands.

More conversions
A happy user is the user that returns to the website and as a result interacts with it. Dynamic content offers users unique a experience and therefore generates more engagement and conversions.
Shorter buyer journey


By adjusting a website's content to the user, we can make sure that they can quickly find what they came for. This ensures a higher quality of user experience, lower drop off rate and faster conversion. A satisfied customer is more likely to return or recommend you further.

Longer time spent on the website


Static content can make the user reject the website very fast. On the contrary, the site with dynamic content is considered by the user as attractive and interesting. As a result, they are willing to spend more time viewing the page, which in return increases a website's SEO rating.
Can dynamic content take on different forms than websites?
The term 'dynamic content' is mainly used in the context of websites, but it can also take on different forms such as:
newsletters and emails,
landing pages,
articles,
product pages,
or ads.
Dynamic content is also quite common on YouTube, basing suggestions on the last videos you have watched.
Does dynamic content have a future?
The truth is that adaptive content is currently widespread all over the web and because personalisation makes the experience for the user more interesting, this strategy will probably stay with us for much longer. Dynamic content has got much more advantages than static content and it delivers an engaging and satisfying online experience for the visitor. Therefore, it is predicted to be more and more commonly used by web designers in the future.