What is ESG and why should companies embrace these values?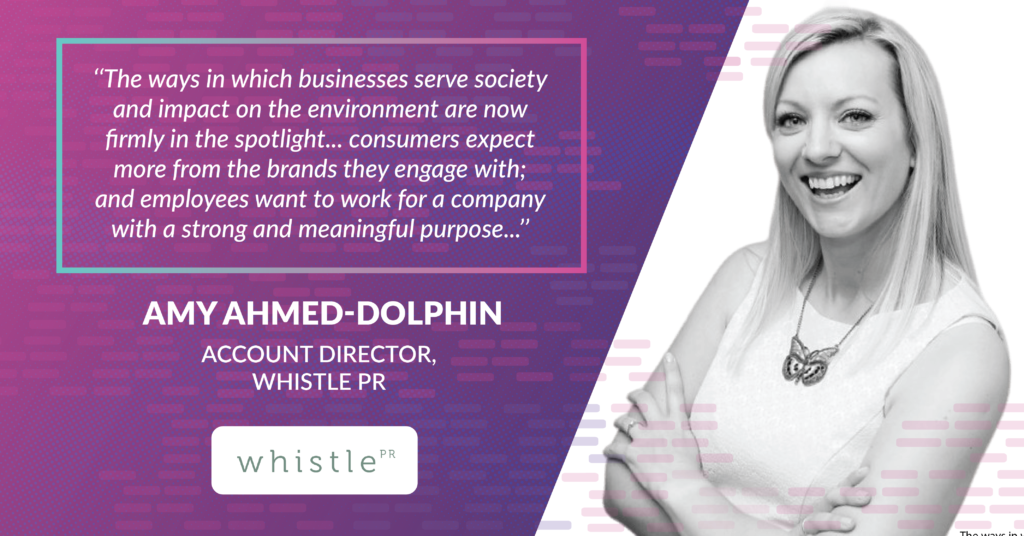 Amy Ahmed-Dolphin is Account Director at Whistle PR and has recently taken on the role of Head of ESG Communications. We spoke to her about why she feels so passionately about ESG and the importance of communicating strong company ethics.
1. Firstly, what exactly is ESG and why is an ESG Strategy important for businesses?
ESG stands for Environmental, Social and Governance. These are the three key areas in which companies can evaluate their sustainability performance. Historically, businesses and organisations will have focussed on CSR or corporate responsibility – however ESG as a term is being used more and more, particularly by investors.
Environmental covers the impact of an organisation's operations on the planet – including its contribution to climate change through greenhouse gas (GHG) emissions, along with waste management, biodiversity and energy efficiency. Faced with the climate emergency and worldwide efforts to combat global warming, the role of organisations in reducing GHG emissions and decarbonising is now critically important.
For me, I perceive social as a duty of care; but this relates not solely to your people, but to the communities in which you operate and wider society too. Think employee relations and wellbeing, wages and benefits, labour standards, occupational health and safety, customer relations, community relations, supply chain management, human rights and social justice issues.
And finally, governance refers to a set of rules or principles defining the rights, responsibilities and expectations between different stakeholders within an organisation. It includes board management structure and practices, equality, diversity and inclusion (ED&I), regulatory compliance, bribery and corruption, fraud, data hygiene and security and sustainability compliance. Together, these three factors work alongside each other – ideally harmoniously – with governance serving as the bedrock for sustainable development.
With the climate emergency drilled into public consciousness via the media's focus on COP26 last year, the ways in which businesses serve society and impact on the environment are now firmly in the spotlight. Not only is climate change fast becoming the most pressing ESG issue commanding investors' attention – but consumers expect more from the brands they engage with; and employees want to work for a company with a strong and meaningful purpose that they can really get on board with.
2. Why do you personally feel so strongly about this initiative?
As a Buddhist, my personal values align with creating value within society. I believe that one's harnessing of wisdom, courage and compassion within one's outlook, thought and actions sends ripples of positivity out to your environment and those around you.
I've been a communications professional for many years and have found it rewarding and enjoyable work to help brands define, protect and enhance their reputation. However, when it comes to ESG and helping brands map out how they are going to evolve as a more responsible and sustainable business, the moral rewards for me deepen tenfold.
3. For companies who don't know where to start with ESG, what is the first natural step?
Start by looking at where you are now, gathering insights from your business to clarify what you are doing already and what you would like to do more of. Think about what matters to your customers and other stakeholders so you can begin to map out some central themes you wish to own from an ESG perspective. It can be helpful here too to undertake some benchmarking by looking at your competitors, and perhaps brands beyond your sector which you aspire to.
Armed with all of this, you can then look to set your ESG goals, agree how these goals will be measured and then form a communications plan to begin sharing your good work with your target audiences.
Sustainability can be overwhelming…but it doesn't need to be. Even when faced with the dark arts of carbon reporting, there is plenty of help and free advice readily available via the likes of Sustainability West Midlands, of which Whistle has since become a member. Just start small, focussing on the areas you see yourselves championing, and build on them.
4. Can you give us a short case study of a company you have worked with that has been particularly successful?
With the built environment responsible for 25% of UK carbon emissions, the housebuilding and wider construction industry is being scrutinised when it comes to sustainable development and low carbon housing. In response to this, national housebuilder Tilia Homes needed to create its first ESG strategy for the business. But with no dedicated sustainability resource in house, it turned to Whistle to provide expert ESG consultancy and project management. As a national brand with four regional businesses, 50 sites across England and a wide range of stakeholders, the company brought us in to establish its current ESG activity across its operations and work with a multi-functional team to set Tilia on a clear sustainability journey.
We held a series of one-to-ones with individuals from across the business to gain insight into current ESG initiatives and existing measurement and reporting, and to identify potential opportunities for Tilia to maintain, improve or lead in this area.  We then created a bespoke ESG workshop, delivered to a wider stakeholder group, which covered an introduction to ESG, the current climate and sector landscape, before hosting break-out sessions and group brainstorming to agree ESG pillars for the business and action planning around each key theme. Whistle then developed a strategy, action plan and delivery framework around four ESG key pillars.
Tilia Homes now has an outline strategy for ESG which will be taken forward by the business, enabling it to meet increasing expectations from landowners, planners and customers.
5. In addition to getting your clients' stories in the media, what other approaches have you taken to communicate a client's ESG credentials?
Communicating a client's ESG journey externally really comes down to defining their audiences, understanding what matters to them and working out how best to reach them, i.e. what media they consume. Alongside traditional PR tactics such as sharing news in the local press and news-jacking to position thought leadership and expert commentary in the nationals, Whistle has also recommended a breadth of creative tactics and collateral to engage stakeholders. Digital PR, paid social, commissioning research, creating white papers, publishing featured case studies and polls on LinkedIn, guesting on podcasts and relevant award sponsorship are just some of the other tactics we deploy. The opportunities are endless.
However, before you even start looking at external comms, it's vitally important to have first considered what you are communicating internally. Without buy-in from your people, you will be hard pushed to deliver on the ESG goals which you have set. We would always recommend implementing regular communications to keep your team engaged, informed and valued in terms of the part they play in your organisation's ESG journey.
6. What content have you found to be the most effective?
For those brands serious about having a voice across social media and trade, national or regional press on the key themes they are passionate about, a robust thought leadership strategy becomes a pivotal part of the PR toolbox. The messaging matrix we produce as part of this strategy features key points and issues alongside positioning statements and substantiation, aligned to relevant spokespeople within the business. This provides a clear and concise framework for comms, enabling us to not only devise a regular programme of monthly proactive content for owned, paid and earned channels, but also to respond quickly to the news agenda via news-jacking.
Thanks for sharing your expertise, Amy! If you want more information about how to implement an ESG strategy in your business, contact Amy at: Amy.Ahmed-Dolphin@whistlepr.co.uk.