Case Study: Creating a new website for Zero Outage Industry Standard (ZOIS) Association
Black Cliff Media had the right ideas, the knowledge to implement these and – most importantly – the sense how they fit into our DNA. Needless to say that the whole project was executed in a very professional manner – with high quality design and technology throughout.

Walter Sedlacek, Zero Outage Industry Standard Association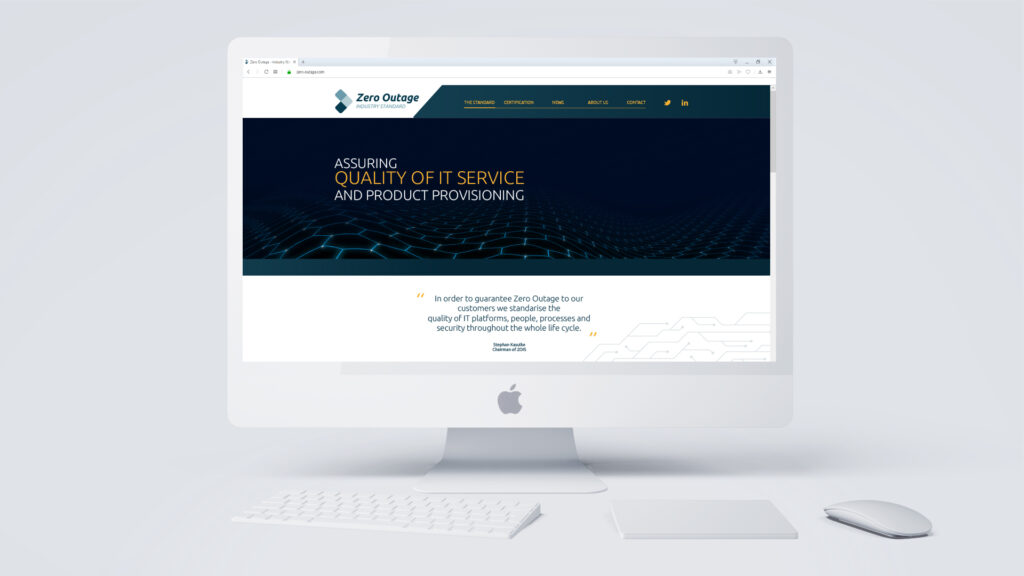 The Client
ZOIS – Zero Outage Industry Standard is an association comprising of some of the largest and most influential tech companies in the ICT hemisphere. T-Systems, Brocade, SAP, Cisco, IBM, Dell, EMC, HDS, Juniper, NetApp and SUSE represent just a handful of the heavyweight players participating. Acting as a collective, they have set aside their individual business interests to do something that has never been done before – to create a new standard of quality for everyone that IT technology touches in the digital age.
From software and hardware developers, to network and service providers and technology manufacturers. Put simply, they are working towards realising a new benchmark – a world where the frequent present-day network and system outages cause some of the most costly and severe service disruptions, security vulnerabilities and inhibit business innovation.
The Brief
As crucial as having all of this talent and shared common vision – the ZOIS association required a new place to call home. Specifically, a space where it could keep its members abreast of breaking news and developments, welcome new members to the fold and chart the progress it is making. It needed a website that would encapsulate its ambition and reinforce its brand identity – making it and what it stood for, instantly recognisable. 
The core requirements for the new ZOIS association website were two-fold:
To inform on the value and benefits of achieving a zero outage standard
To welcome new members into the association and convey value to stakeholders
Black Cliff Media were approached to design, build and optimise a new website to replace an earlier iteration. The original website had lacked an intuitive UX design and menu architecture which threatened to overshadow the high quality, thought-leadership content present throughout. The new web design would need to pay homage to the technologically sophisticated background of association members as well as to promote the four workstreams: Security, Processes, Platform & People – which form the cornerstone of the ZOIS solution model.
Our Approach
We were fortunate at Black Cliff Media to have not only worked with other associations in the past – which helped to give an instant understanding and appreciation of some of the common challenges that collectives experience – but also to have worked for ZOIS association previously.
Our web designers, developers and graphic designers analysed and assessed the weak points in the original web design and came up with 4 prototypes for our client's consideration.
Our close relationship and healthy communication with ZOIS greatly facilitated gaining an effective understanding of their needs early on. The web design had to emphasise 'quality in IT' from the offset. It also had to be client-focussed to help identify the audience's own pain-points and promote the ZOIS solution.
For an collective, consisting of so many representatives and key decision-makers – ZOIS representatives made communication as clear and straight-forward as we could have hoped for. Their judgement to elect a limited number of spokespeople to convey the outcome of internal votes held, concerning project specifics – allowed us to maintain our creative momentum.
Our Lead Graphic Designer shares her thoughts on the project and its' design…
"The most challenging thing is always to reflect customer's needs in the design. ZOIS team was very consistent with their expectations and thanks to this, the work on the project went smoothly. I like it particularly because of its  elegant and technical nature."

 Ewelina, Lead Graphic Designer – Black Cliff Media
The task of unifying the content was particularly challenging from a UX development stance – given the culmination of haphazardly arranged content-entries and fractured menus and sub-menus created over time. The numerous menu branches – consistent across multiple content categories and pages were mapped, organised and streamlined. The application of cascading menu architecture allowed for a navigation system that was clean, minimal and intuitive.
"The best project creativity comes from working within the restrictions that you impose on yourself and the task at hand, doing so will always lead to greater innovation."

Krystian, Lead Web Developer – Black Cliff Media
In addition to co-ordinating the look, feel and content – the new web design accommodated the upload of a variety of media including hi-res authentic images and animated explainer videos. In addition we created a new portal for the downloading of gated content and an email completion form allowing visitors access to this.
Our web developers ensured the website was search engine optimised to increase its online presence, as well as providing it with full dynamic response capabilities that enhanced loading time agility and improved stability. The website design provides a seamless and consistent smooth user experience whether accessed via small screen devices, or using a traditional desktop method.
The new, finalised website provides ZOIS association members with a professional platform that reflects and compliments their innovative approach to tackling IT outages, keeping the digital world spinning without disruption.
As well as providing a valuable resource hub for visitors that offers a range of informative and useful materials – from explaining what the ZOIS 'Standard' is itself, to showcasing membership presentations, videos, news, developments and insights – the new web design provides the association with the perfect marketing tool.
Acting as a beacon, the new web design makes use of delivering all sub-pages with unique URL addresses to ensure inbound marketing efforts can be maximised. With this visitors can by directed to an exact, desired point on the website.
The new ZOIS website also creates an effective launch-pad, enabling further marketing activities to raise awareness, reach a wider audience and to champion the association's values.
View Our Web Design Portfolio