How to keep your marketing fit and prepare your come-back after the coronavirus pandemic?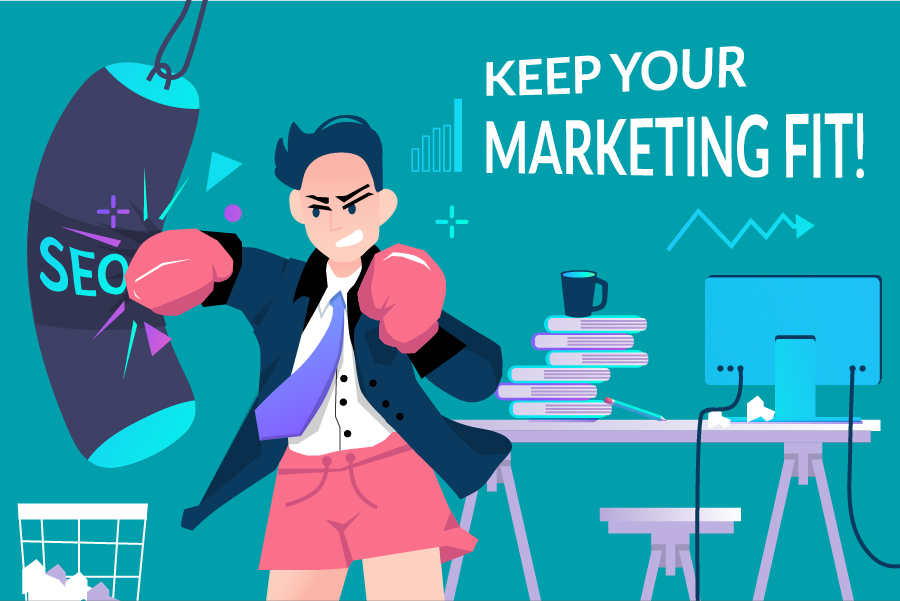 The world has come to a standstill. We are holding our breaths, reading the news with a deeper and deeper feeling of hopelessness. The economy has slowed down. People are grounded at homes, juggling children and work at the same time. Those who have jobs are afraid to lose them. Business owners fears for their companies.  But we all know that it will pass, that things will get better. It might take a long time, but things will eventually get better. These days it's important to take care of your business or work the same way you are taking care of your health. You must keep your marketing fit!
What can be done now?
Now it's the time to pause, reflect and take actions. This is the time to commit your efforts into content marketing, a long-distance recipe for business success. Keep your marketing fit, so when we come out of it on the other side, you can say you have not wasted the time and your business has a much stronger online presence.
6 Quick fixes for long term results
Here are some small and not very time-consuming actions that if performed correctly can boost your company's image.
Review your keywords.
These should be reviewed frequently ensuring the content you create focuses on the right area of your business.
Optimise and test your headlines.
Make sure these are reflecting any changes you have done to the keywords selection. You can use either google ads or WordPress testing plug-in to A/B test your headlines.
Correct your company's description.
By this I mean the simple snap of what your business is about showing when you type in your company name in

to

Google. It should be powerful but to the point. You only have a small number of characters to describe your company to convince the reader you are the right choice. Remember to always keep the reader in mind, this means by writing the description you should not focus on your achievements, but on the reader's pain points and how your service or product can solve it.
Update your website.
If you have a brand-new website or you have ongoing web support, chances are that there is no work to be done. However, if your website is more than a year old, there could be some important website maintenance work needed. This could include e.g. updates of security, plug-ins and responsivity, but also inclusion of GDPR and cookies info if you have forgotten to do so before. Also, remember to update your cookies policy each time you start using new marketing tools like Google Analytics, HubSpot or hotjar on your website.
Update existing content.
This is a simple trick to keep Google happy. Review your existing content and think what can be changed or added to make the content more relevant to your keywords. Pay special attention to these posts, which ranks best and have most readers. Take this opportunity to build on this content to create even stronger text and watch the snowball get bigger.
Create backlinks.
Backlinks are the links directing readers to your page from different sources. The quickest way to do it is to make sure your company is correctly listed in all company listings available online.
The big 9 to keep your marketing fit
Here are some ideas on how you can best utilise the time you have, while your sales and orders most probably have gone down. You can try to follow all these tips or pick and match what suits your preferences and skills. Some of these you will be able to do yourself or within your marketing team, some will need to be outsourced to a creative marketing agency.
Build up your on-site content.
Written content has always been very valuable for SEO and client trust-building, but I bet you never had enough time or resources to really invest energy into it. Now, you most probably have more time on your hands plus you probably will be able to involve your work colleagues from different departments, who no doubt would like to share their expertise. Try to schedule a variety of articles. This can include "how-to" and "10 ways to" type articles, written interviews with your experts, checklists and even whitepapers. You do not need to publish straight away all content that you and your colleagues have created. Plan not only the type of content, but also the publication dates. This is the time to create a pool of content that can be released weekly over the next months or a year. Working on it now will ensure you won't be overloaded once we all return to work.
Create guest-blogging opportunities.
These are perfect for backlinks building as each time your article gets published information about you and your company will be added, linking to your website. This is also a great way to widen your reach and get introduced to new readers. If you make sure the article is valuable and responsive to your audience's needs, you will no doubt gain their respect and trust
Offer on-line webinars or podcasts.
It is an option for those who like being seen or heard. A perfect way to introduce yourself, your expertise, services or products.

During this time

when face-to-face meeting

s

should be avoided, an online interview is a way forward.
Prepare future press releases.
No doubt there are events that had to be postponed or moved online, projects which will still get finalised and launches which will happen in the future. Use this time to prepare press releases ahead of time to save yourself the hassle later. Sure, some points cannot be written now, you might not know the outcomes of certain actions nor the stats, but you still can write the basic, intro and outro, headlines. The final numbers can quickly be added later.
Re-design your website.
You might have looked at your website going through the "quick fixes" part and thought "Just a few headline changes and it's perfect". For all "How do I know if my website is ok?", here is an article explaining when the website re-design is really necessary. A great company website will focus not only on your expertise, but mostly on how your clients' needs can be fulfilled and their problems solved. So as much as a nice look & feel and proper coding are crucial, a thoughtful content choice and position are vital to ensure that visitors will convert into clients.
Build your landing pages.
Do you have separate landing pages for each of your offering

s

? If you offer only one thing, your main website is a landing page, but if you have a variety of products or services, it is advisable to either group them or create (depending on the number) separate landing pages. It is important to create offer-focused landing pages, especially if you plan to run paid advertisements in the future. If

sales are

down and you know this might stay this way, no matter what you do, you won't be running ads now. Nevertheless, you can prepare all necessary components e.g. landing pages, written content and images way ahead. Here are some tips you might find useful in creating your landing pages.
Create an animated video.
It will not be possible to invite a filming crew into your office and record the everyday-life at your company. This is were technology and creativity come

to the

rescue. An animated company video is a perfect way to present your business and explain the benefits of your offering. You may create one video to promote your company or invest in a series of videos promoting the separate products or services, going deeper into the details of each

offering

and its benefits.
Visualise it.
Written content is great and not only does it show your knowledge, but it also positions you in search engine. Still, when content saturation is an issue, how can you encourage people to start reading

your entire article

? Graphics and moving image is the way forward. Create or let people create for your videos, infographics, illustrations or a GIF promoting your content. Social media posts with moving images have a much higher click-through rate (CTR) than written text.
Work on your website SEO.
If you think your website is fine, perhaps you didn't think about SEO? It is difficult to find a website, which would not benefit from a bit of SEO tuning. Simple steps can involve optimising each page's and article's online descriptions and picture names. Here are our 5 tips on how to improve your SEO.
The list of tips on how to keep your marketing fit could no doubt be longer, but let's hope we will soon be able to go back to normal. So an overload is unnecessary. Remember that consistency is key when creating content, so do not make the mistake of spreading yourself thin and trying to cover all of the marketing options available to you. Instead, try to pick two or three points and do it right. You will thank yourself later for the time you spend on it now. When the Earth will start turning again, you might find yourself swamped with tasks and having a foundation like this will greatly help you in the future.
If you need any help with your marketing strategy or marketing content, get in touch with us. 
Stay Safe and #StayAtHome.