Key Marketing Trends for 2019 & Beyond! (Part 2)
Welcome to our second and final part of our run-down of the greatest marketing trends for 2019 and beyond. Click here if you missed part one, otherwise scroll down to see the last of the important marketing influences for 2019 moving forward.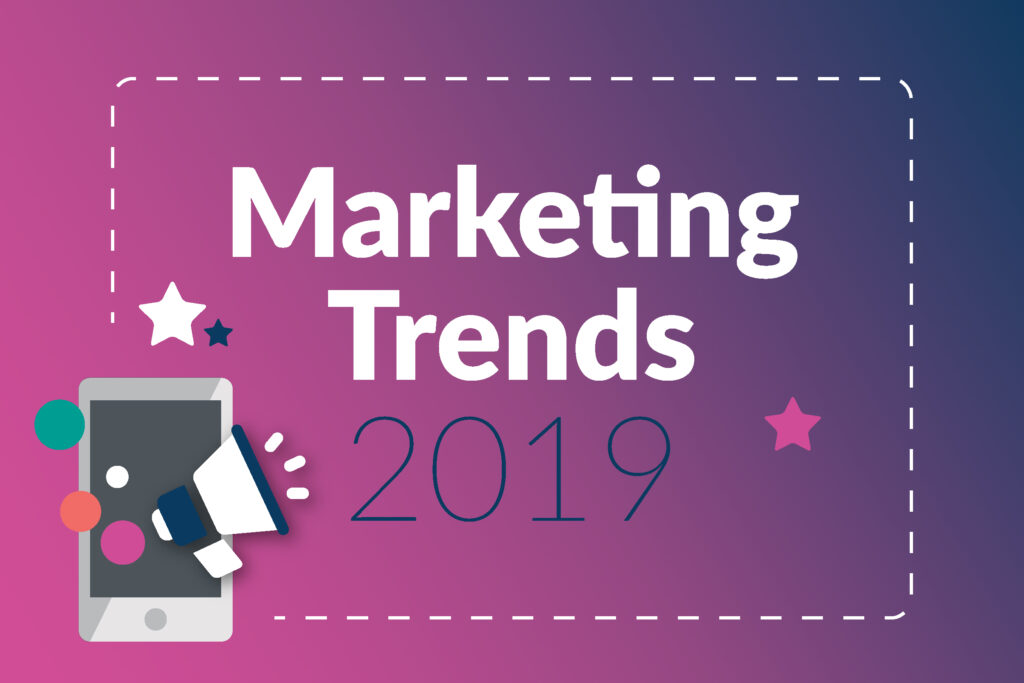 6. Content Marketing: Divide and conquer
Content Marketing as a whole continues to be an area that all brands are investing heavily in for the future. Our Podcast with Ryan Collier,Senior Account Manager of Egress at IP EXPO 2018 revealed how Egress divides its marketing efforts into two. While part of their marketing team concentrates on formulating their content strategy and creation – the other focuses on field marketing – which can include supporting sales, personally connecting with target buyers and hosting at events.
Content marketing forms the backbone for all brands that we have been fortunate to pick the brains of – if you curious to see how other companies approach the importance of content marketing  – check out our ever-growing curation of podcasts here.
7. Video (Content) killed the radio star
Aside from the importance of the written word – commissioning engaging video content provides brands with something of a force-multiplier, allowing one specific piece of video content to be re-edited and re-purposed as required for multiple marketing projects. As a result video content will continue to enjoy dramatic growth next year and beyond. Another string to video content's bow is the continued development of small screen devices – which receive in every iteration improvements to camera technology, mobile data speeds as well as a growing wealth in the development of apps and software that make capturing, editing and sharing video fast, intuitive and rewarding for users.
As Mark Chambers, MD of Syndicate Communications and winner of this year's CIPR PRide award summarised : "… [smartphone] growth [has] and will continue to change the industry."
The importance of video content is a medium many brands are looking to accommodate and use to engage with smartphone users. Our podcast with Ragnar Kruse co-founder & CEO of SMaato– a real-time mobile ad & app monetisation platform demonstrates how SMaato is looking to maximise their reach by developing video ad content for the small screen – taking advantage of the convenience and advances in smartphone technology.
Here at Black Cliff Media – more of our clients are turning to video, requesting both traditional and animated video content – the latter being only limited by the imagination; able to provide a level of sheen that may be more difficult to achieve where traditional video production is concerned. Take a look at our showreel to see the breadth of video content that is possible.
Video content truly represents the Swiss Army knife of marketing possibilities. Whether taking the form of Explainer Videos – to simplify often complex information in a concise and creative way, interviews with company execs or even 360-degree video – this medium continues to push creative boundaries and invoke emotional engagement. Video format continues to go from strength-to-strength, year-on-year and constitutes a huge influencing factor for brands in their content creation. But don't take our word for it. Do any online search and you'll come across swathes of stats that all point to the same conclusion – if you're not using video now – you need to, and if you already are – then there's always more you could be putting out there.
For example, you may not be aware but "…companies using video in their content marketing mix see on average a 66% lift in website conversion rates". (Aberdeen Group). Nearly "5 billion videos are watched on YouTube" daily (MerchDope) – and arguably the most vital aspect of video for brands – is their ability to remain lodged in the memories of audiences long after they have viewed them: "According to HubSpot, 80% of customers remember a video they've watched in the last month" (Forbes).
8. Event marketing becomes advertising's event horizon
Last, but by no means least – event marketing is making a decisive comeback. What was once side-lined by the explosion of digital and brands becoming preoccupied with e-marketing, now is becoming a gateway that captures the hearts and minds of audiences, both on and offline. Following the aforementioned trend of 'personalisation' – event marketing is evolving into a powerful mechanism that offers physical and virtual attendees rich and rewarding experiences, using emotion to communicate the value of a brand's products and services.
This is heralding an era of Experiential Marketing, where brands take their offerings to their customers and show how their solutions are relevant and essential . VR and AR continue to wow audiences at trade shows and fairs. Brands are concentrating on commissioning interactive video content specifically for these events – with a sudden growth of organisations available for hire who can provide the tech hardware such as smart badges, connected networks, VR headsets, touch displays etc and expertise to ensure the smooth running of these on the day.
In addition, event marketing surpasses mere lead generation by providing organisations with the ability to create communities to nourish mutually beneficial actions – improving an entire industry as a whole. Growing such communities through event marketing forms the first of three goals that Thomas Spreitzer, Marketing & Partner Management at Deutsche Telekom gave when asked where his marketing focus lay for the coming year: "I have three targets. 1) Emotions & Network: Expand our Digital X community 2) Using AI & analytics to be 'really' target group specific 3) Provide relevant content." You'll notice that all three marketing goals that Thomas mentions are covered in our 2 part marketing trends for 2019 article.
The key takeaway points then are that knowledge is everything. For a brand that means gaining self-awareness for how their marketing operates internally and how externally this translates to ensure the right message reaches the right people. Personalisation is a powerful driver but it needs to be consistent to match customer expectations – all the time, regardless of channel. Customising the message is also about tailoring the delivery and for that again, knowledge concerning the best means to reach the recipient is key.
Finally, a core catalyst for realising a personalised approach is for brands to make themselves ever more present and available with their customers, forming networks with peers and aligning themselves, where feasible, with the competition to overcome mutual challenges. The tech to enable all of this is no longer a science-fiction dream of the future – it's here already and becoming more accessible and cost effective all the time.
If you are still left yearning for a compelling soundbite that reflects today's marketing efforts moving to the future, then fear not – Roelof Holwerda, Global Channel Marketing Director, Dell EMC simplifies digital marketing to its very essence: "Marketing in the digital era equals Business Development at scale".
We couldn't have put it better ourselves!
START A PROJECT WITH US